CEO Updates
The EPIC Report with actual numbers updated. RCG Economics has update the chart using the most recent census numbers with seasonal adjustments.  While very close to projections, given the anticipated growth this year we expect to exceed the projections by the end of this year. Actual numbers graphs.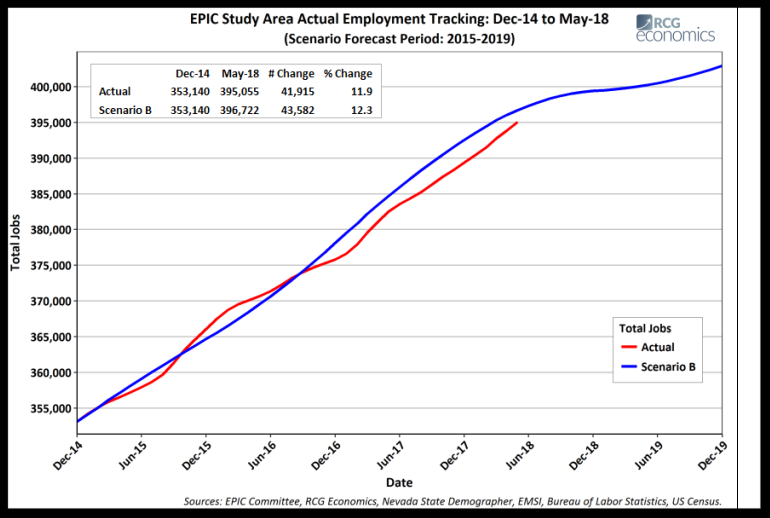 Housing remains a concern: The chart below shows the number of permits for new housing units (including apartments and condos) pulled in the past few years, compared to the goal of 6,000 per year. Note that 12 years ago, in 2005, we were over 6,700 permits.  The 6,000 units a year goal just meetsthe projected demand for housing, so  as of May we are well behind our goal.
Here is the latest RGJ article:
Opportunity Zones – A Redevelopment Job Start
 – Opportunity Zones, included in the recent 2017 Tax Act, are a new national investment program that incentizes private capital to invest in low income communities and businesses. The new code allows individual and corporate taxpayers to defer capital gains on the sale of stock, business assets, or any other property by investing the proceeds in an Opportunity Fund, which in turn must invest in businesses located in certain low-income communities designated as Opportunity Zones (OZs). Most of Reno and Sparks' downtown cores, as well as the Tahoe Reno Industrial center, are in a designated zone. 
Here is the full article
.
EDAWN articles, published in the RGJ, are stored on our website.
 Here is the 
link
 to the library.
Business Development Updates
The Business Development team closed the fiscal year having assisted 20 new companies to relocate to the region.
Two companies were closed in June for an addition of 197 new jobs:
Polaris (collaborated with NNDA), Distribution, 79 jobs in Fernley
(Confidential), Distribution, 118 jobs
The Business Development team also added 8 new leads and projects to the pipeline.
Stan Thomas represented a company for incentives this week, as well.
Partner Updates
Where's The Contract? How To Do Business with Washoe County and the Washoe County School District.
 Sign up here for a free workshop on August 3rd, from 7:30-9:30 am at the Washoe County Government Center. 
Here is their flyer
.
The Western Nevada College Foundation will be hosting its 3rd Annual Reach for the Stars Gala
on August 11th at the 
Jack C. Davis Observatory
. In addition to stargazing through the observatory's state of the art telescopes, this special evening features live entertainment, cocktails, dinner and live and silent auctions. Proceeds from this event are critical to supporting academics at Western Nevada College, with a focus on science programs like astronomy and physics. This important funding helps to maintain the WNC Observatory in order to keep our students, scientists and the community on the edge of the latest technological advances. 
Here is more information
.
Looking for technical assistance and cash incentives for energy efficient retrofits? 
Did you know that it is important to identify and evaluate all available incentives and, in some cases, submit the necessary applications in advance of your energy efficiency retrofit project? This workshop, presented by the City of Reno ReEnergize Reno project, will focus on the technical assistance and financial incentives available to you. The workshop will take place Tue. July 10, from 9:00AM – 10:30AM at the University of Nevada Innevation Center powered by Switch. 
See more here
.
Congratulations to TMCC Adult Basic Education (ABE) for their upcoming 2018 TMCC High School Equivalency Graduation Ceremony on July 20th
. TMCC ABE prepares motivated adults who are laying the groundwork for further education and future success. For more information, contact 
Cynthia Pierrott
.
The Coordinate Metrology Society (CMS) is a large membership of users, service providers, and OEM manufacturers of close tolerance, industrial coordinate measurement technology
. These metrology systems include inspection software, traditional CMMs, theodolites, GPS, laser projection systems, laser trackers, laser radar, photogrammetry/ videogrammetry systems, scanning devices, and articulating arms. The Coordinate Metrology Society Conference will take place on July 23-27 at the Grand Sierra Resort and Convention Center. For registration and more information, 
go here
.
The Stat Pack is a monthly business e-report, co-authored by Mike PeQueen of HighTower Las Vegas and John Restrepo of RCG Economics, with input from Brian Bonnefant of UNR. 
It combines important metrics relevant to business decision makers and financial commentary on current issues facing the Nevada economy. 
The Stat Pack
 features data and dialogue about the Southern and Northern Nevada economies.  
Here is latest Fact Pack!
EDAWN Events
 Save the Date!
EDAWN's Arts & Business Luncheon and Awards – September 13, 2018!
EDAWN's Arts & Business Luncheon and Awards will highlight and recognize businesses and individuals who have shown outstanding support and engagement with the local arts community. At this luncheon, learn about the important role a thriving arts and culture community plays in our region's successful economic development efforts of attracting and retaining quality companies, as well as a qualified workforce. Registration will open in August.
Keynote Speaker:
Laura Zabel, Executive Director
Springboard for the Arts
Event Details:
EDAWN's Arts & Business Luncheon and Awards
Thursday, September 13, 2018
Eldorado Resort Casino
11:30 am – Check-In
12 noon – 1:30 pm – Lunch, Keynote & Awards Presentation
Co-Partners: City of Reno, City of Sparks, Sierra Arts Foundation and the University of Nevada Reno/College of Liberal Arts
 For more information, please contact 
Sheila Imsdahl
 or call 775-829-3704.
Thank you to our Title Sponsor:
Celebrate the Great
 – Our community appreciates all the great contributions of our existing primary companies which are the foundation of our local economy. Take this opportunity to recognize and thank the existing primary companies in our region who contribute to our growing economy, by nominating them in one of the following categories: Biggest Little WOW, Corporate Citizen, Employees First, Small But Mighty, Leader in Sustainability, Manufacturing Excellence, Partnership with Education, and Company of the Year. For more details and to nominate yourselves or another company go here: 
Award categories and General Criteria are posted on the EDAWN website here
. Nominations close August 17th, so don't delay